Read previous news on the topic: Ukrainian crisis: March 24
Defying Ukrainian protests and Western sanctions, Russian President Vladimir Putin signed a treaty in Moscow on Tuesday, March 18, making Crimea part of Russia again. He also said he didn't plan to seize any other regions of Ukraine.
On the same day a Ukrainian serviceman protecting one of the remaining Ukrainian bases in the main town of Simferopol on the peninsula came under attack - the first death in Crimea from a military clash since Russia seized control in late February. The Ukrainian authorities said the attackers had been wearing Russian military uniforms, and responded by authorizing its soldiers in Crimea to use weapons to protect their lives, reversing previous orders that they should avoid using arms against attack.
In response to Russia's actions, the EU, the U.S. and Canada have introduced a number of sanctions against Russian officials. Moscow responded with symmetrical sanctions.
As of March 24 there were around 100 thousands soldiers on the Russian side of the south-eastern borders of Ukraine and Crimea.
00:11. Leader of the 'Spilna Sprava' ('Common Cause') civil movement Oleksandr Danyluk is a suspect in a criminal case for obstruction of rallies with violence, he wrote on Facebook.
00:21. The 'UDAR' Party MP Irina Gerashchenko believes that Ukraine must use methods of the 21st century as an answer to Russia's aggression in order to avoid casualties.
According to her, Ukraine can't demand the West to impose sanctions against Russia while continuing to cooperate with Russian partners and even executing some military contracts.
00:36. A Committee on Foreign Affairs in the U.S. House of Representatives has approved a bill to provide $1-billion assistance to Ukraine. Now the document is to be approved by the House of Representatives.
00:54. A Chamber of Deputies of the Czech Parliament excludes forcible annexation of a part of the territory of Ukraine in Crimea to Russian Federation.
08:25. On Wednesday Russian flags have been raised in all 193 military units located on the territory of the Crimean Republic, chief of the Russian General Staff, Army General Valery Gerasimov stated.
09:24. U.S. President Barack Obama at the Nuclear Security Summit in The Hague said that the annexation of Crimea to Russia is not a done deal.
He also noted that Crimea as a part of the Russian Federation hasn't been recognized by the majority of the international community, so its annexation to Russia is not legitimate.
09:42. The Interior Ministry is ready to admit a public watchdog to the investigation of Oleksander Muzychko's (Sashko Bily) death, who was either killed or shot himself during his detention, Interior Minister Arsen Avakov stated.
09:51. In Crimea most of the Ukrainian fleet is controlled by Russian troops. As of the morning of March 26 Russian flag has been raised on 51 vessels of the Ukrainian Navy. Ukraine retains control over 10 ships.
10:20. Today in Rivne a funeral of a 'Praviy sector' ('Right sector') civil movement activist Oleksander Muzychko will take place. He will be buried near the graves of fighters of a 'Heaven's hundred'.
10:27. Russia's Foreign Ministry has sent a protest note to Ukraine's Embassy in Russia because of the actions of the State Border Service of Ukraine concerning a crew of the Russian airlines 'Aeroflot'.
Russia's ministry cites a case that took place on 24 March, when a co-pilot of 'Aeroflot's plane following a route 'Moscow-Kyiv' was supposedly banned from leaving the board.
10:30. Experts from a Development Center of a Higher School of Economics (Russia) predict that the crisis in Ukraine will end this year. In 2014, they predict a GDP decline of 1.1%, which will then turn into a steady growth of 1.4-2.3% in 2015-2017.
10:50. American law firms representing the interests of Ukrainian businessman Rinat Akhmetov demanded that a number of Ukrainian and foreign media remove materials criticizing the oligarch.
11:17. A bill on banning computer games aimed at propaganda of war, incitement of national, racial or religious hatred and enmity has been registered in Russia's State Duma.
Author of the bill Oleg Mikheev offers to fine individuals for 2000-3000 rubles ($55-83) for the distribution of 'pro-fascist' games. The maximum fine for companies may reach up to 500 thousand rubles ($14 million).
12:11. Fozzy Group, developing a network of shops 'Silpo', 'Velika Kishenya', Fozzy and Le Silpo, is ready to withdraw a range of Russian goods from sale. According to the company's statement, it intends to sell only those Russian products, which either has no analogues in Ukraine, or are in high demand among buyers.
12:15. Russian State Duma deputy from the party 'Fair Russia' Oleg Mikheev has introduced a bill to toughen penalties for impairing the authority of Russia, the Soviet Union and the Russian Empire, the Russian Federation and its armed forces.
12:29. Poland will send observers to the presidential elections in Ukraine, which will be held on May 25, Polish Foreign Minister Radoslaw Sikorski said at a briefing in Kyiv.
12:36. The Verkhovna Rada, Ukraine's parliament, has allowed Ukrainian servicemen to privatize their housing in the dorms.
12:39. On March 25, activists of the Belarusian diaspora in Kyiv celebrated the 96th anniversary of the Belarusian People's Republic (pictures).
On the occasion they marched from Independence Square past the Cabinet's building and then barricades along Instytutska Street and picketed at Belarus Embassy building. In addition, they paid tribute to fallen heroes of 'Heavenly Hundred' and expressed support for the Crimean Tatars.
12:43. The Verkhovna Rada individual MP Anatoly Gritsenko intends to run for the post of president.
13:05. On Sunday, March 30, a mourning prayer-Veche marking 40 days from the tragic events of February 18-20, involving clergy of the Ukrainian churches, will be held at Kyiv's Independence Square, reported the press service of All-Ukrainian Union 'Maidan'.
13:13. Uzbek Foreign Ministry considers 'direct bilateral negotiations to find a mutually acceptable compromise solution of the problems' 'the only reasonable solution' of the situation around Crimea.
13:17. Acting President of Ukraine, Chairman of the Verkhovna Rada Oleksandr Turchinov has fired Sergiy Kunitsyn from a post of Permanent Representative of the President in Crimea for the improper performance of duties. Kunitsyn resigned on the eve.
13:29. The Ukrainian authorities intend to defend the eastern Ukraine with military means in case of the Russian invasion, but hope for a diplomatic solution to the conflict, Ukraine's Forteign Minister Andriy Deshchytsa stated.
13:33. The World Bank has introduced new forecasts for growth of the Russian economy, taking into account the annexation of Crimea. WB sees two possible scenarios. The first option comes from the fact that the events in Ukraine will have only a short-term impact on the Russian economy, the second one threatens serious shock and recession of GDP. In the first case, Russia's GDP growth will slow to 1.1% in 2014, in the second - to 1.8%. Six months ago, the World Bank predicted Russia's GDP growth in 2014 will be 2.2%.
13:47. The Security Service of Ukraine has declared wanted a self-proclaimed Acting Attorney of Crimea Natalia Poklonskaya. Relevant information was published on a website of the Interior Ministry.
14:06. China's foreign ministry said on Wednesday that international financial bodies ought to be offering aid to Ukraine to ensure its economic stability, though it stopped short of saying whether Beijing would participate in such efforts.
14:16. Head of Kyiv City State Administration Volodimir Bondarenko said that businessmen Konstantin Zhevago and Petro Poroshenko expressed willingness to partially finance the restoration of the center of Kyiv after the recent protests.
14:38. Individual MP Petro Poroshenko is far ahead of his competitors in the lead in the presidential election.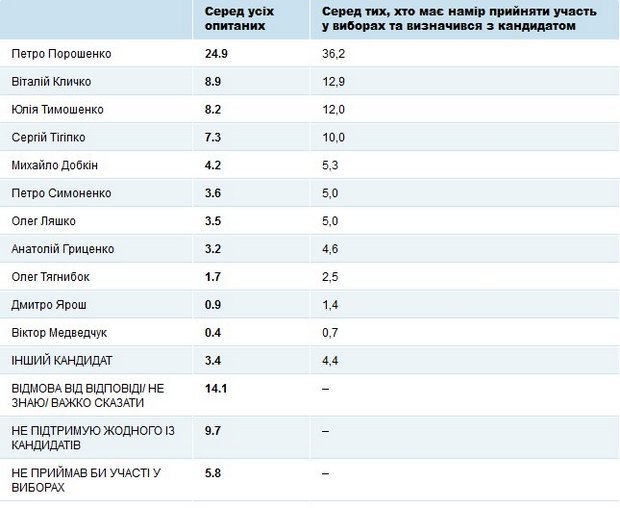 Petro Poroshenko is the first number in a list, Vitali Klitschko - 2nd, Yulia Tymosheko - 3rd, Sergiy Tigipko - 4th, Mykhailov Dobkon - 5th, Petro Simonenko - 6th, Oleg Lyashko - 7th, Dmotro Yarosh - 8th, Viktor Medvedchuk - 9th.
14:44. The Crimean parliament on Wednesday adopted a number of decisions on the nationalization of Ukrainian state-owned enterprises, located on the peninsula, including seaports, wineries, railway and many others.
14:53. Ukraine's Defence Ministry will charge Russia for the Ukrainian military property captured by Russian soldiers in Crimea, Deputy Defence Minister Leonid Polyakov stated.
14:55. Introduction of biometric passports in Ukraine will start before the end of 2014, Prime Minister Arseniy Yatsenyuk stated.
15:05. The government of Ukraine has approved the necessary laws and regulations for the second phase of the introduction of a visa-free regime between Ukraine and the EU. Prime Minister Arseniy Yatsenyuk asked parliament to enact the laws as urgent.
15:22. A number of transactions on the Ukrainian market of mergers and acquisitions fell to a minimum due to the difficult political situation in the country and relations with Russia, Vice President of the Ukrainian Union of Industrialists and Entrepreneurs (USPP) Miroslav Tabaharnyuk stated.
15:35. Acting President Oleksandr Turchinov has appealed to Ukrainians on the occasion of the presidential campaign and promised to avoid the administrative burden on voters.
16:02. Euromaidan Self-Defence activists and an organization 'Vіdsіch' picketed offices of Russian banks in the centre of Kyiv. They handed out leaflets to passers-by, hold placards and glued facades of the offices with agitation, reported LB.ua correspondent from the place.
The pickets were held at the offices of Russain Alfa-Bank, VTB Bank and 'Sberbank of Russia'. The Protesters believe that the Russian banks are funding war and urged citizens to take out their deposits.
16:04. The European Union has banned to issue all kinds of European visas, including Schengen, to the inhabitants of Crimea in embassies and visa centers of the EU countries on the territory of the Russian Federation.
16:22. Belarusian President Alexander Lukashenko in an interview to Ukrainian TV show 'Shuster Live' said he does not recognize Viktor Yanukovich as President of Ukraine.
'Reveled in his power, and when it became hard, ran away? No, I do not recognize this', he said.
16:33. Ukraine's Foreign Ministry has stated that Russia continues relocating soldiers and military equipment to the border with Ukraine. Moreover, Russia is actively using drones for reconnaissance in the border regions, the ministry noted.
16:50. Prime Minister Arseniy Yatsenyuk said the European Union can supply Ukraine with up to 25 billion cubic meters of gas per year. This is slightly less than Ukraine bought gas from Russia in 2013. Moreover, gas from the EU will be $100 cheaper than from Russia.
17:00. Interior Minister Arsen Avakov has told reporters that people who call themselves the 'Praviy sector' ('Right sector') oppose the Interior Ministry in two regions.
According to him, people armed with grenade launchers who seized a private house, located near the property attributable to the leader of the public organization 'Ukrainian choice' Viktor Medvedchuk, resist law enforcers in Transcarpathian region. And people who call themselves the 'Right Sector' have captured a slag waste landfill in a gully 'Srednyaya' ('Average'), which belongs to the Iron and Steel Works 'Dneprospecstal' in Zaporizhya region.
17:05. Ultras of Donetsk FC 'Shakhtar' have appealed to Russian football fans in connection with the aggression of Russia in Crimea. Their appeal was published on their group's page in a social network Vkontakte (pictures).
'When Russians fought on Manezhna Square (December 2010). We, Ukrainians, supported your struggle against the regime. When we rebelled against our regime and defeated it, you, Russians, support your King in the war against us and rejoice with the annexation of Crimea.
Think, Russians, who you were and who you've become. In a photo, in December 2010, an action of 'Shakhtar' ultras in support of the Russian resistance on Manezhna Square'.
17:06. Russian government has refused to use Amercian iPads in favour of South Korean Samsung tablets, Apple's main competitor. According to the head of the Ministry of Communications Nikolai Nikiforov, it was a purely technical solution, which had nothing to do with politics.
17:14. Ukrainian company 'Volya' ('Will'), which is one of the largest providers in the country, has suspended broadcasting of Russian TV channels 'NTV Mir', 'RTR Planeta' and '1st Channel'.
17:16. Former Deputy Prime Minister, member of the Party of Regions Yurii Boiko submitted documents to the CEC for registration as a presidential candidate.
17:27. The main crew of the Ukrainian corvette 'Ternopil' has refused to swear allegiance to Russia and is waiting for relocation to Ukraine, second sergeant Yaroslav Klyazinka told LB.ua by phone.
17:28. Gas tariffs for Ukrainians will increase by 50% since May 1, Chairman of the Board of "Naftogaz of Ukraine" Andriy Kobolev.
The International Monetary Fund, which have asked Kyiv to raise tariffs, repeatedly stated that a low price for gas is in fact hidden subsidies received both by poor and rich Ukrainians.
17:35. Ukrainian Defence Ministry has information on six Ukrainian prisoners in Crimea - five officers and one General, said Deputy Defence Minister Leonid Polyakov at a briefing at the Cabinet of Ministers. 
Their current location remains unknown, he added.
17:56. Kyiv City Administration is conducting a technical inventory of civil defence facilities to prepare them for their intended use, the press service of the administration reported.
17:58. The United States is ready to provide gas to the European Union in the volumes it consumes, stated president Barack Obama in Brussels at a press conference after US-EU summit.
Thus, position of Russian 'Gazprom' in the EU can seriously falter.
18:07. Ukrainian army will hold military exercises 'Spring Shower 2014' in March and April in four districts of Kharkiv region, the press service of the Kharkiv regional administration reported.
18:57. Ukraine has begun to redeploy troops from Crimea, a deputy secretary of the National Security and Defence Council Victoria Syumar said.
Also negotiations are under way for the withdrawal of a number of Ukrainian servicemen with equipment and weapons.
19:36. Contacts between the foreign ministries of Russia and Ukraine will continue, said Deputy Foreign Minister Grigory Karasin. In the coming days meetings will be held at the level of deputy ministers.
19:54. Switzerland said on Wednesday it would not be 'abused' by those wanting to circumvent Western sanctions against Russia but stopped short of adopting its own measures, reports Reuters.
Transparency campaigners say it is taking a cautious stance to help protect its role as a global commodities hub that earns revenue from trade with Russia, although the government said it had no intention of allowing the sanctions to be bypassed.
But Switzerland, also a hub for private banking and a popular destination for Russia's wealthy elite, is reluctant to take measures it fears could compromise its cherished neutrality or damage closely nurtured trade relations with Moscow.
However, if Switzerland itself does not target rich Russians with interests in Switzerland, it runs the risk that further U.S. or EU sanctions could do so, with the Swiss economy potentially suffering collateral damage.
Swiss Foreign Minister Didier Burkhalter told reporters the 33 Russians and Crimeans on the EU's sanctions list would not be able to apply to Switzerland for a Schengen visa, but stressed there was no blanket ban for Russian citizens.
The government said it left open the possibility of more fully adopting the EU or U.S. sanctions as the crisis unfolds.
20:11. Tactical aviation brigade commander in Belbek Yuliy Mamchur is being transferred from Crimea to Kyiv, reported his wife Larisa Mamchur.
There is also information that all six captured Ukrainian servicemen are driven towards transition point Chongar.
20:24. Physician and public figure Olga Bohomolets intends to run for president of Ukraine, her press service reported.
20:41. Russian occupants are carrying captured Ukrainian tanks to the north of Crimea, Vladislav Seleznyov, a Ukrainian military spokesman in Crimea said (pictures).
21:27. Russia will not be pushed out of Ukraine's Crimea region by military means but, if the West stays united, Russians will realise they cannot achieve security through brute force, U.S. President Barack Obama said on Wednesday, reports Reuters.
Obama, in a speech in Brussels, said the Ukraine crisis showed the United States and Europe were again confronted with the belief that bigger nations can bully smaller ones.
Russia would not be 'dislodged from Crimea or deterred from further escalation by military force. But with time, so long as we remain united, the Russian people will recognize that they cannot achieve security, prosperity, and the status they seek through brute force', he said.
If Russia stayed on its current course, its isolation would only deepen and sanctions would expand, Obama said, adding that the Ukraine crisis did not mark the start of another Cold War.
21:58. CEO of Russia's 'First Channel' Konstantin Ernst urged Ukraine to cancel the decision on temporary suspension of retransmission of Russian channels.
The court's decision is contrary to the European Convention on Transfrontier Television, says Ernst.
22:14. Ukraine expects Britain's toughest economic sanctions against Russia, stated leader of the 'UDAR' party Vitali Klitschko said during a meeting with British Prime Minister David Cameron, Britain's Foreign Minister William Hague and leader of the Labour Party and chairman of the parliamentary opposition Ed Miliband.
London has done a lot to support Ukrainian democracy, Klitschko said.
22:32. Colonel Yuliy Mamchur, Maj. Gen. Igor Voronchenko and Lieutenant Colonel Dmitry Delyatitsky of the Marine battalion in Feodosia, earlier captured by Russian soldiers, have arrived in Kyiv, Acting Deputy Head of the Presidential Administration Andriy Senchenko told in an exclusive comment to LB.ua.
22:53. A number of Russian troops on the borders of Ukraine has increased due to the arrival of new units from Bryansk region of the Russian Federation. This means that Putin is preparing an invasion across the 'Eastern Front' - from Chernigiv to Donetsk, head of the Center for Military-Political Studies Dmitry Tymchuk wrote on Facebook.
23:37. All students of a Naval Academy of Nakhimov in Crimea, which came under Russia's control on March 20, will be able to continue their education in Ukraine, Acting Deputy Head of the Presidential Administration Andriy Senchenko told in an exclusive comment to LB.ua.